Design Features:
Yaosheng-double door check valve is suitable for automatically preventing backflow in systems that need to allow flow in one direction and prevent flow in the opposite direction. The double door check valve is recommended for cleaning liquids and gases. Due to its cost-effective design and non-impact performance, it has a reputation for excellent performance in refineries, petrochemicals, gas liquefaction, other process industries, and HVAC applications. Lighter weight and shorter laying length save initial cost, require less space, and are easier to install than full-body, swing type.
Structural materials
Double Disc Check Valve Main parts and materials
Parts name
Material

Valve body Bonnet

Grey iron

Butterfly

Grey iron

Valve shaft

Carbon steel

Sealing ring

NBR

spring

stainless steel
Product Anatomy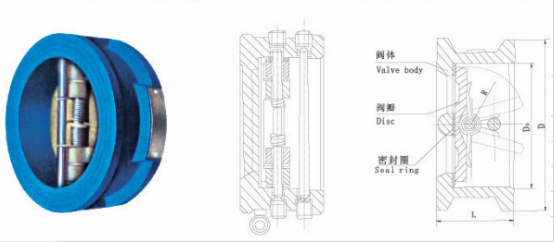 Double Door Check Valve
Technical Parameter
Double Disc Check Valve Function and specification
Type
Nominal
pressure
(mpa)
Testing pressure(mpa)
Suitable
temperature
Suitable
medium
Strength
(Water)
Enclose
(Water)

DH77X-10

1.0

1.50

1.10

≤80℃

water
Product Description

Double Disc Check Valve Outline and connecting measurement
Type
Nominal
DN(mm)
Measurement(mm)
L
R
R
D
D0

DH77X-10

40

43

23.5

92

66

50

43

28.5

106

66

65

46

34.5

126

81

80

64

44

135

95

100

64

52.8

158

118

125

70

66.5

190

146

150

76

74.5

214

171

200

89

87.5

270

225

250

114

127

328

266

300

114

147

378

311
Characteristic
1.Compact structure, reasonable design, good valve rigidity, smooth passage.
2.The use of flexible graphite packing, reliable sealing, light and flexible operation.
Applications:
Wafer style check valve industrial applications: Petroleum, Chemical, Paper, Making, Fertilizer,Coal Mining, Water Treatment and etc.
Introduction:
Small volume Compact structure and convenient maintenance
The dual plate can be self closed due to the elastic torque.
Fast closing can effective avoid the back-flowing
A class sealing, Zero leakage.
Easy installation, can be used to vertical and horizontal set up.
Our Advantage:

1. We have Sand or Precision casting technology, So we can as your drawing design and production.
2. Customers' logos are available cast on the valve body.
3. All our stainless steel wafer check valves with tempering procedure before Processing.
4. Use the CNC lathe during whole process.
5. The disc sealing surface use plasma welding machine welding.
6. Every valve must be tested before delivery from the factory, only qualified ones can be shipped.
7.The split disc check valve we usually use Bags to package, We also can according to specific customer's requests.
Certificates:
CE,API,ISO approved.
Why choose Yaosheng?
1. We are a gost valve manufacturer, and produce dual disc check valve since 1992.
2. Fast delivery.

3. Low price with high quality.
4. Professional work Team!
We also provide other GOST valve, JIS valve, DIN valve, BS series, etc.
More information about valve:
Backflow Preventer vs. Check Valve