3PC Ball Valve-1000WOG Main parts and materials
Parts name
Material

Valve body

CF8 CF8M WCB

Ball

SS304 SS316

Valve seat

PTFE

Valve stem

SS304 SS316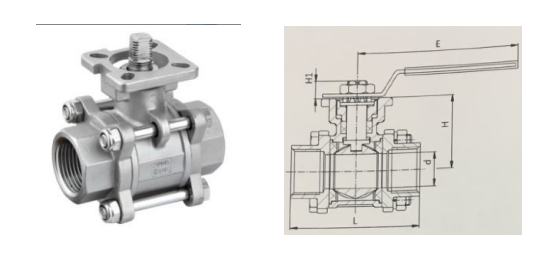 3PC Ball Valve-1000WOG Function and specification

Type

Nominal pressure
(WOG)

Testing pressure(mpa)

Suitable
temperature
Suitable
medium
Strength
(Water)
Enclose
(Water)

3PC-1000WOG

1000.0

API598 JB/T9092

≤150℃

Water, oil, steam
3PC Ball Valve-1000WOG Outline and connecting measurement

SIZE

1/2"

3/4"

1"

1 1/4"

2"

d
15
20
25
32
50
L
69
79
89
104
133
H
44
47.4
55
62
81
H1
9
9
13
13
16
E
104
113
135
145
182
Product Obvious advantages:
The ball valve is mainly used in the pipeline to cut, distribute and change the flow direction of the medium. Ball valve is a new type of valve that has been widely used in recent times. It has the following advantages:
1. The fluid resistance is small, and the resistance coefficient is equal to the pipe length of the same length.
2. Simple structure, small size and light weight.
3. It is close and reliable. The sealing surface material of the ball valve is widely used in plastics and has good sealing performance. It has also been widely used in vacuum systems.
4, easy to operate, open and close quickly, from full open to full off as long as rotated 90 °, easy to control over long distances.
5, the maintenance is convenient, the ball valve structure is simple, the sealing ring is generally active, and it is convenient to disassemble and replace.
6. When fully open or fully closed, the sealing surface of the ball and the valve seat is isolated from the medium. When the medium passes, it will not cause erosion of the sealing surface of the valve.
7, a wide range of applications, from small to a few millimeters, up to a few meters, from high vacuum to high pressure can be applied. When the ball is rotated 90 degrees, all the spheres should appear at the entrance and exit, thus cutting off the flow.
Tips:
1.Compact structure, reasonable design, good valve rigidity, smooth passage.
2.The use of flexible graphite packing, reliable sealing, light and flexible operation
Applications:
Industrial applications: Petroleum, Chemical, Paper Making, Fertilizer, Coal Mining,water treatment and etc.
Product Advantages:
1.We have Sand or Precision casting technology,So we can as your drawing design and production.
2.Customers' logos are available cast on the valve body.
3. All our casting with tempering procedure before Processing.
4. Use the CNC lathe during whole process.
5. The disc sealing surface use plasma welding machine welding.
6. Every valve must be tested before delivery from the factory, only qualified ones can be shipped.
7.The kind valve we usually use Bags to package, We also can according to specific customer's requests.
Company Advantages:
1.We are manufacturer Since 1992.
2.CE,API,ISO approved.
3.Fast delivery.
4.Low price with high quality.
5.Professional work Team!