what is a safety valve?---Safety Valve Definition
The safety valve is a valve that plays a role of fail-safe protection. An example of a safety valve is a pressure release valve, which automatically releases substances in a boiler, pressure vessel, or other system when the pressure or temperature exceeds a preset limit. The pilot operated safety valve is a special type of pressure safety valve. A leak-proof, lower cost, single emergency use option is the rupture disk.
How does the safety valve work?
The safety valve is used to prevent the pressure increase from causing malfunction, fire or explosion. The safety valve has only mechanical parts, so it is used when the electronic or pneumatic safety device fails. The safety valve is completely driven by the medium of the system and keeps working in the event of a power failure.
Safety valves play an important role in ensuring the safety of personnel and equipment. Building on the long-term legacy of comprehensive safety valves, we work closely with customers and regulatory agencies to configure, design and manufacture safety valves to help maintain safer operating conditions in various environments.
How many types of safety valves are there?
There are mainly two types of safety valves. Spring type safety valve and pilot type safety valve.
Spring safety valve
The spring force Fs is transmitted to the plate that closes the nozzle through the main shaft, and the plate is closed together to ensure sealing. As long as the spring force is greater than the force Fp generated by the valve inlet pressure, this situation will remain.
Yaosheng gost spring loaded safety valve
Safety Valve Main parts and materials
Parts name
Material

Valve body

WCB

spring

50CrVA

Valve stem

2cr13

Disc

2cr13
Sectional View: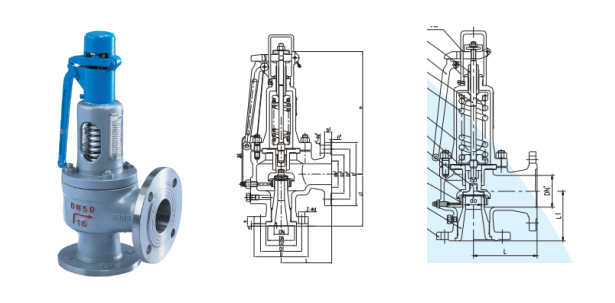 Safety Valve


The valve specifications
Safety Valve Outline and connecting measurement
Type
Nominal
DN(mm)
Measurement(mm)
d0
L
L1
DN'
A48Y-16/25/40
20
10
95
85
25
25
15
110
95
32
32
20
115
100
40
40
25
120
110
50
50
32
135
120
65
65
40
160
125
80
80
50
170
135
100
100
65
195
175
125
125
80
210
190
150
150
100
250
210
200
200
125
305
260
250
250
150
350
320
300
300
200
370
350
400
350
250
500
450
500
400
300
500
450
500
500
350
550
500
600
Pilot operated safety valve
The pilot operated safety valve limits the pressure in the system by opening the main valve to compensate for overpressure. They are self-medium controlled. Like all medium-load safety valves, both sides of the sealing disc have the same pressure effect. However, due to the different size of the surface, a greater force is generated in the closing direction.
What is the difference between a safety valve and a relief valve?
Although both terms refer to valves used to release pressure from pressurized systems, their technical definitions are slightly different.
Safety Valve vs. Relief Valve
Generally speaking, the term overflow valve refers to the opening of these valves used to control the pressure in the pressurized system. It is usually used in fluid or compressed air systems and is proportional to the increase in system pressure. The valve that makes the system achieve the best function .
The design of the safety valve can help your equipment to avoid system failures, to be fully opened immediately to avoid disasters, and to protect the equipment from overpressure conditions. Not to control the pressure of the system.
Choose Yaosheng--professional gost valve manufacturer
Safety is the tenet of our development and production. Especially when people's safety is threatened. Because of this, we test the reliability of our products under particularly extreme conditions.
Yaosheng gost safety valve protects your equipment, environment and the health and safety of workers. This safety device is designed to open and release the overpressure of the container or equipment, and then close it when the system returns to normal and prevent further release of fluid.
All of our gost valves meet the export standards to Russia. Gost series is our main product category, Russia safety valve is our hot product. Russia is also one of our main markets. All customers from industry are welcome to come to our company for more details on valves.