DIN Globe Valve Main parts and materials
Parts name
Material

Valve body

GS-C25、CF8、CF8M

Valve seat

13CR、SS304、SS316、stellite

Disc

13CR、F304、F316+Stellite

Valve stem

2CR13、F304、F316
Application: petroleum, chemical, pharmaceutical, fertilizer, power and other industries. Safe and reliable performance.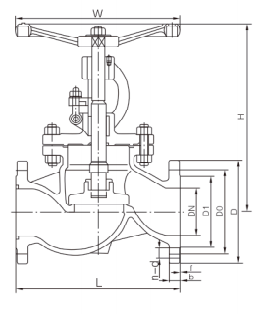 DIN Globe Valve Function and specification
Type
Nominal pressure
(mpa)
esting pressure(mpa)
Suitable
temperature
Suitable
medium
Strength
seal

J41H-16/25/40

1.6/2.5/4.0

1.5*PN

1.1*PN

≤350℃

Water, steam, oil, etc.
DIN Globe Valve Outline and connecting measurement

Type

Nominal
DN(mm)

Measurement(mm)

L

D

D0

D1

b-f

z-φd

J41H-16

15

130

95

65

45

16-2

4*φ14

20

150

105

75

58

18-2

4*φ14

25

160

115

85

68

18-2

4*φ14

32

180

140

100

78

18-2

4*φ18

40

200

150

110

88

18-3

4*φ18

50

230

165

125

102

20-3

4*φ18

65

290

185

145

122

20-3

4*φ18

80

310

200

160

138

20-3

8*φ18

100

350

220

180

158

20-3

8*φ18

125

400

250

210

188

22-3

8*φ18

150

480

285

240

212

22-3

8*φ22

200

600

340

295

268

24-3

12*φ22

250

730

405

355

320

26-3

12*φ26

300

850

460

410

378

28-4

12*φ26

350

980

520

470

438

30-4

16*φ26

400

1100

580

525

490

32-4

16*φ30

J41H-25

15

130

95

65

45

16-2

4*φ14

20

150

105

75

58

18-2

4*φ14

25

160

115

85

68

18-2

4*φ14

32

180

140

100

78

18-2

4*φ18

40

200

150

110

88

18-3

4*φ18

50

230

165

125

102

20-3

4*φ18

65

290

185

145

122

22-3

8*φ18

80

310

200

160

138

24-3

8*φ18

100

350

235

190

162

24-3

8*φ22

125

400

270

220

188

26-3

8*φ26

150

480

300

250

218

28-3

8*φ26

200

600

360

310

278

30-3

12*φ26

250

730

425

370

335

32-3

12*φ30

300

850

485

430

395

34-4

16*φ30

350

980

555

490

450

38-4

16*φ33

400

1100

620

550

505

40-4

16*φ36

J41H-40

15

130

95

65

45

16-2

4*φ14

20

150

105

75

58

18-2

4*φ14

25

160

115

85

68

18-2

4*φ14

32

180

140

100

78

18-2

4*φ18

40

200

150

110

88

18-3

4*φ18

50

230

165

125

102

20-3

4*φ18

65

290

185

145

122

22-3

8*φ18

80

310

200

160

138

24-3

8*φ18

100

350

235

190

162

24-3

8*φ22

125

400

270

220

188

26-3

8*φ26

150

480

300

250

218

28-3

8*φ26

200

600

375

320

285

34-3

12*φ30

250

730

450

385

345

38-3

12*φ33

300

850

515

450

410

42-4

16*φ33

350

980

580

510

465

46-4

16*φ36

400

1100

660

585

535

50-4

16*φ39